If you have read the title to this blog article then you know what I'm about to talk about. The question is do you know who Khaliq-O-Vision is or what Hypnotic Music Secrets are? Chances are you probably don't, that is unless you are an industry pro who has been around for many years and you have worked with him or you are one of his many students whom he has lectured to and mentored through one of his many Webinar sessions or Industry events. Well for those of you new to the field (at least on a higher level) chances are you may have discovered one of his many instructional videos or heard about him through a friend. Nevertheless, the new generation of up and coming audio tech engineers/producers know their new mentor as (and mine too) Khaliq Glover – but we all refer to him "Khaliq-O-Vision." This is by his choice of course. Actually, I kinda like it. It sounds like a new music genre or something…


I was able to attend his first ever live video engineering class on Friday June 29th. (Pointer: If you plan on taking the class (and you should) I think if you are a newbie, you should consider getting his book, "Hypnotic Music Secrets" first so that you will have a headstart on some of the topics he will be discussing.) It's only about $15 and well worth it for the price. And just so you know, he goes over lots of different problem areas concerning audio engineering that I'm sure the young producer/engineer who wants to expand their knowledge will benefit. Here are some of the topics he will discuss:
TOPICS:
1. Keys to Success while Mixing (Where to Start)
2. Adding Effects to Tracks
3. Mixing Vocals
4. High/Low Frequency (making proper adjustments)
5. Monitoring Your Session
6. Midrange
7. How to Solve Problems
8. Mixing for the Black – What does this mean?
9. Panning
10. Rough Mixes
11. MS Techniques
12. Parallel Compression
13. What Plugins Does Khaliq Use (he will discuss)
14. Frequency Splitting
15. Using Filters
16. The "Vision" System and "Hypnotic Music Secrets"
17. Arrangement
18. Ear-ology
19. Reaching your Sonic goal
20. Alias-ing
21. Boosting
22. Shelving
23. Instruments – best practices
24. Plus many many more TIP/TRICKS to get you to become a master
25. Khaliq's Personal list of Resources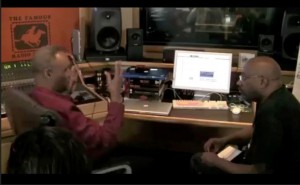 Honestly, there was so much that took place and he talked about so many different subjects as it relates to today's music world during the five hour studio session, I can't believe I learned so much. I literally would have to write a book to mention it all. But I think I will leave that to Khaliq. Being a newbie, its really hard sometimes to know what, if at all, you are doing wrong, or what you could do better until an experienced person shows you the way….. well I must say we got an experienced person alright. I can't wait until the next session. This class is surely for anyone wanting to learn mixing (beginners) as well as those who have a good understanding about the field but want to take their "mix" to the next level and further, for those wanting to be able to compete with the big boys. Khaliq will guide you the way. So don't worry you won't be the only newbie in the class. He has so much skill and insight that he has learned over the past 30 years and he is eager and willing to teach, so enjoy!
Likes About the Session:
I really enjoyed the time in the studio with the other musicians – everyone was so friendly. The atmosphere was great and everyone was so enthusiastic about what we were learning. Spending that amount of detailed time with Khaliq and his assistant was enlightening. I am truly grateful that he took his time at explaining the concepts to us until we were satisfied before he went on to the next subject. One of the guys actually mixed some of the song. The song was from his assistant – it was a track by a jazz singer – it was actually pretty nice. By the end of the night everyone knew the lyrics and was singing it, now I'm gonna find her on Facebook and give her a shot out!!! We worked with a lot of plugins and he went into detail about frequency…. there were so many tip and areas he discussed. He gave us his list (practically everything under the sun) and he further explained what he normally uses (and in what kind of situation) and why. That's one thing I will say about Khaliq – "he knows his stuff" – and he aint afraid to explain it to you over and over.
He loaded the song and then went step by step on what we should do first and helping us to determine what the process should be. It's amazing, now when I hear music, I'm listening differently now. The way we think about "music" is a big part of the way in which we should organize ourselves. There were some "great" questions asked which helped everyone. I highly recommend attending this class.
Dislikes About the Session:
I believe a class as detailed as this should be limited to no more than 6-8 people. I think there were about 15 people in our class, not really sure on the exact number. It will ensure that everyone gets a chance to sit at the mixing board and go through the mechanics of working with the mix and learn. Only a few got to do it in our class. Other than that, everything went smoothly. Time went by so fast I couldn't believe it was over.
Guest Speaker – Dave Hampton:
Dave Hampton – creator and developer of Reptone monitors was Khaliq's guest speaker. You can read all about the Reptone Monitors at www.Reptone.com. From what he was telling us in class, these are the "originals" – anyone wishing to achieve a solid high quality mix should seriously consider using these to do their final mix. These are around $300 so I am seriously considering giving these a try. By the way, Dave is a world class professional too. You can get all the details about his monitors at his site as well as his bio and information about his previous and well as upcoming projects. More importantly, the dvd video from this class is available online. The link is below.
For those of you who still don't know who Khaliq Glover is or what Hypnotic Music Secrets are all about; you can check him out here; http://hypnotic-audio-secrets.com/dvd/. Thanks for reading.
Here are some reasons why you should hire Khaliq Glover:
Grammy Winning Engineer
Mixing Specialist
Top "A List" Clientele (include Prince, Herbie Hancock, and Marcus Miller)
25+ Years Experience
Pro Tools HD3 Accel
Fat Analog Sound
"Old School" Techniques
"New School" Thump
Production Services
Surround Sound Services
Room Tuning & Analysis
Pro Audio Consultation
Professional, Courteous, and Friendly
Background:
taken from http://khaliq-o-vision.com/
Khaliq has worked on "We Are The World" written by Michael Jackson, Lionel Richie, Stevie Wonder and performed by an All-Star Cast which was the highest point that I'll remember so far in my career. He was lucky enough to be one of many engineers who helped out on that project, and because it wasrecorded at Lion Share Studios where he worked, he got to see it grow from the very beginning of tracking all the way through mixing. It was Incredible. The All-Star Vocal session held at A & M Studios was just a one day snapshot of a much larger marathon.
Watching Michael Jackson and Lionel Richie take apart the lyrics so that they would have the most impact was totally amazing. Every single word and syllable was examined right there in the studio and I heard them voice their reasoning behind changing one word that would make all the difference in how the world would respond.
Watching Quincy Jones instruct and guide everyone but at the same time, letting the professionals that he hired do their thing too. That's why he hired them. But he was so observant, that he could come in and change a sharp here, an eighth note there, and make it all gel together. He knew exactly what needed to be done for the final polish.
Over the years, he has seen certain patterns re-appear time and time again. One of the biggest SECRETS is that they don't ever fall in love with one part. They will mute or erase it in a heartbeat and not feel that it has to be used just because it was recorded and you really like what you or they did. If it doesn't Easily Fit into the song during mixing, It's out of here. A small but crucial tactic that will make all the difference in power and clarity.
Khaliq has a wealth of knowledge that he wants to pass on. I'm in for the ride. He is dedicated to helping you and other producer engineers to stop guessing about their music. Even though no one can guarantee a hit record, there are certain concepts, approaches, tips, and formulas that will increase your chances." And Khaliq is solely focused on providing the new generation with this much needed guidance and advise.
So take it from me – for the little amount of money he is charging you gotta get registered as soon as possible for the next class. I guarantee you too will discover the hypnotic music secrets and be on your way to something fabulous!!
Thanks Khaliq – You're the Best!!!!
See you guys at the next class.
SOURCES:
http://mixingacademy.com
http://khaliq-o-vision.com
http://www.reftone.com
http://hypnotic-audio-secrets.com/dvd
http://www.michellestevenson.info
MS Entertainment
(213) 563-7510
www.michellestevenson.info